END OF SUMMER SALE AT KITCHEN KIT
As autumn approaches, there is no better time to check out our end of summer sale to get your kitchen ready for cosy cooking and group gatherings! We are approaching the season where we spend more time in the kitchen, curating winter warmers, spending time around the table with the family and escaping the autumn chill, so why not have a look at renewing your kitchen?
At Kitchen Kit, we have a wealth of experience designing, supplying and installing kitchens throughout Cornwall and Devon. We specialise in quality German kitchens and appliances and are proud to have built strong relationships with the two brands we work with. We currently sell kitchens from both Nobilia, the world's largest kitchen manufacturer, and Ballerina, one of the best German kitchens on the market. Join our large number of happy customers by letting us take care of your kitchen, with a range of options to suit your budget and style during our end of summer sale.
Quooker Hot Tap
Our end of summer sale runs from the 1st of September to the 13th of October and has fantastic deals. Benefit from some great savings when you purchase a kitchen with us! Save £500 on a Quooker Hot Tap worth £1,300 and enjoy instant boiling water for those cosy cups of tea and comforting hot water bottles! With hot water at your fingertips, this fantastic piece of equipment will transform how you use your kitchen and allow you to warm up in an instant.
10% off all appliances
We are also offering 10% off all appliances from trusted brands like Siemens, Neff and Bosch once you purchase a kitchen in our end of summer sale. Furnish your brand-new kitchen with a luxurious bean-to-cup coffee machine or replace your essentials with a new kettle, toaster, blender and food mixer. Make sure you are fully equipped with everything your kitchen needs, at a discounted price! 
Three kitchens we are loving at the moment
Need some inspiration? We understand it can be hard to imagine what a new kitchen might look like when you're used to one that has been in your home for years. Our large range of modern and traditional options can make the decision-making process difficult too! Why not check out some of our favourite kitchens at the moment that combine function with beauty and let them inspire you to make the most of our end of summer sale? 
Excursion to the Mediterranean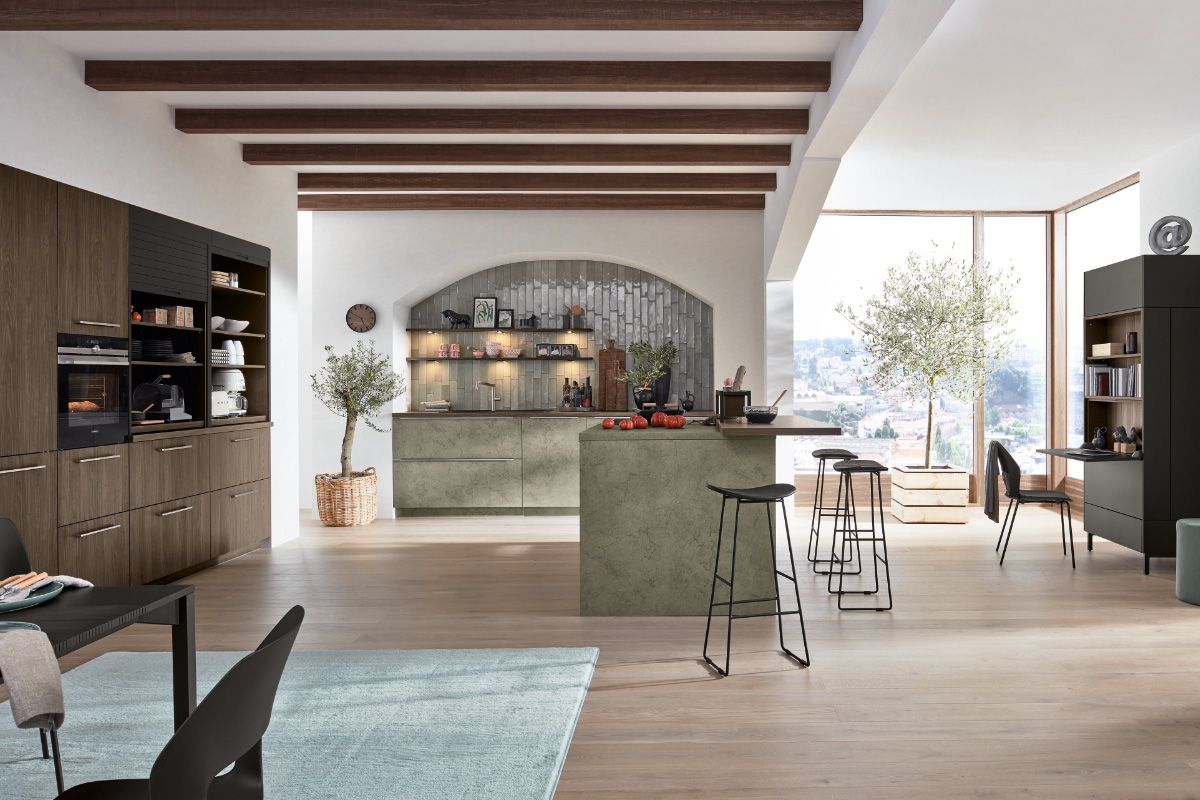 This stunning TOP 1651 kitchen from Ballerina draws warmth and comfort into your house, combining contemporary elements with traditional influences. Authentic materials evoke elements of the Mediterranean, from the multi-faceted earth and natural tones to the colour palette reminiscent of a late summer evening. The dark maron and stone green features create a striking contrast which, combined with the elegant round arch above the row, only makes the kitchen look more inviting.
Multiple pull-outs and drawers provide ergonomic and sleek storage space that emulates the simplistic yet beautiful design of this kitchen. This dream kitchen is available in all colours from Ballerina, so you can customise it to suit your personal style. Choose from 26 carcase finishes, delivered with matching interior and exterior decor. The substantial and thick coating of the decors makes it exceptionally resistant to abrasion and scratches, allowing you to enjoy a high-quality kitchen for years to come! 
Compact convenience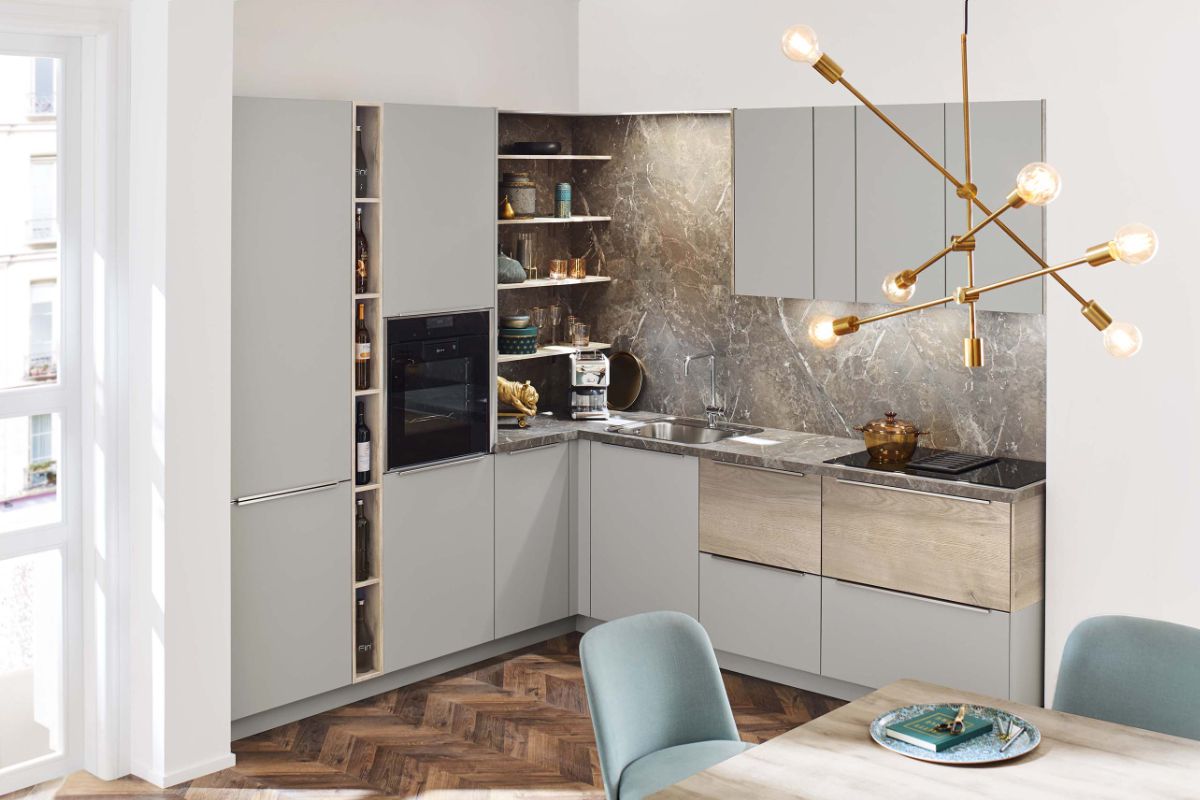 Another kitchen we are loving right now is this fashionable and homely ARTE-B 3389 design from Ballerina. Contrasting with the TOP 1651 but equally as sleek, this kitchen is designed to combine function and beauty in any small living space. The dolphin grey shade and classy stone decor demonstrate that elegance cannot be measured in the size of a room.
Rotating shelves and internal pull-outs behind unit doors and drawers create an organised space, customisable to the size and shape of your room. This kitchen is also available in all colours from Ballerina, so your space isn't limited by only a few different looks. Make the most of our end of summer sale to own a kitchen just like this and benefit from our great offers at the same time! 
A modern composition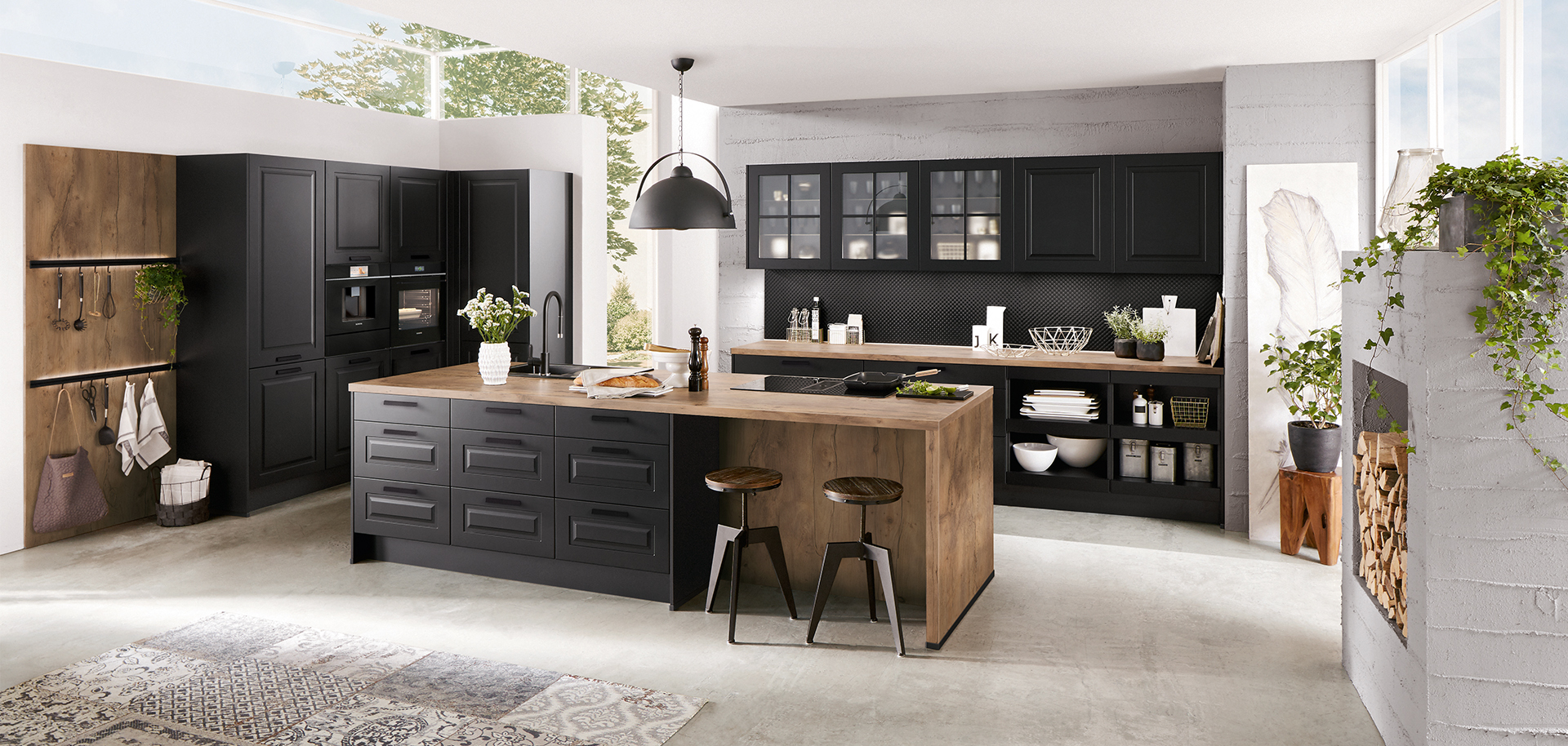 Finally, take a look at the SYLT 851 kitchen from Nobilia. This kitchen combines contemporary architecture with a cottage style that keeps your space on trend while looking homely and clean.
The traditional cottage-style presentation discreetly stays in the background of this kitchen while elements of modern industrial design take centre stage in the form of structured storage and sweeping surfaces. Customise your kitchen with a range of lighting systems, electric appliances, niche cladding and storage space to reflect your style. 
If any of these kitchens have inspired you to update your space with our end of summer sale, contact our team to discuss some designs and claim your offer! You won't want to miss out on a reduced Quooker Hot Tap, 10% off appliances and a free saucepan set to go in your brand-new, refreshed space. We look forward to hearing from you!